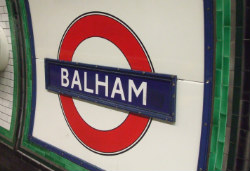 Balham SW12 is a modern residential district situated in the southern part of London, inside the London Borough of Wandsworth. In the past Balham's territory was mostly rural with the exception of a few small settlements spread across the area. However, when the Balham railway station was opened in 1856, the area started to flourish and soon its population multiplied.
About Balham
Today Balham is one of London's most diverse and interesting residential areas. In its heart you'll find the great town center which houses a large number of shops, restaurants, bars and coffee shops. Some major store chains work there as well, so Balham's center is undisputedly a great place to start your shopping tour if you area in the area. This suburb also hosts the Balham Food Festival which occurs every year and continues for nearly two weeks.
A popular landmark in the area is the Banana Cabaret. This old pub is today used as a venue for stand-up comedians and live music, and it has seen performances by some of UK's most popular artists.